Memorial Day criterium
May 30, 2011
This year's
Memorial Day Criterium
is also the NCNCA Junior State Championships. It's not a surprise to see Jack leading the pack in the 13-14 group. He eventually won it, but Adrien from Gabe's SJBC team did an awesome job staying right on his tail and eventually getting second place.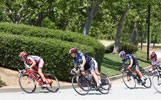 Now it's time for the 15-16 age group to roll. Zeke, Tim, and Gabe will be working together to help Zeke lock in his Junior Points Series (JPS) win. Henry from Tieni Duro broke away early as he often does, but this time none of the other teams were willing to work together to chase him down. SJBC had their plan, Tieni Duro certainly wasn't going to chase, and Matt from Specialized was on his own. I'm sure it was frustrating for a number of the riders, but big kudos to Henry for winning state.
And this is what victory looks like. Nice effort by Zeke at the end to clinch his win in the JPS. Nice job SJBC!
Gabe and I decided to ride home from the race up Old Mt Madonna, and the route didn't disappoint. Beautiful roads out to the base, then an epic few miles of very steep dirt on our road bikes. Now we just have to do the climb up Mt Madonna from the usual side.